Today we're going to make a perfect biltong recipe! South African Biltong is a Beef Jerky, a cured meat, and is a National snack. Canned beef jerky is not only delicious but is quite expensive as well.
Jerky-making is something you can accomplish at home, but you'll need a few excellent strategies to nail your task successfully.
I've got the best recipe for making perfect Biltong's, with a premium texture and flavor. Get into the recipe and enjoy homemade biltong beef jerky.
Ingredients
Beef hump: 8 pounds,
Whole coriander seeds: 1/3 cup
Mixed peppercorns: 2 TBPS
Finely ground coriander: ½ TBPS
Allspice: ½ TBPS
Powdered cloves: ½ TBPS
Marinade
Worcestershire sauce: 1 cup
Brown vinegar: ½ cup
Sea salt 2.54 oz.
Sugar: ½ cup
Directions
Cut the beef into strips of 4-5cm thickness along the grains.
Take a small bowl, add in the Worcestershire sauce, brown vinegar, sea salt, and sugar to prepare the marinade.
Take a zip lock bag, place the beef strips inside it and add in the marinade. Make sure to fully coat the beef with the liquid.
Marinate for one day in the refrigerator.
When 24 hours is over, take a pan on the stovetop, add in whole coriander seeds, and mix peppercorns. Gently toast the spices on medium heat without adding oil.
Once the spices give off a nice toasty aroma, and they start to smoke a bit, remove them from the heat and let them cool down.
Next, coarsely grind the coriander seeds and mixed peppercorns.
Transfer the ground powdered mix to a small bowl, add in the remaining spices, and mix them well.
Take out the well-marinated beef from the refrigerator. Get it off the plastic zip lock bag and place it on a dish.
Then pat it dry with a paper towel.
Now sprinkle spice mix on the beef. Use your hands to well penetrate spices into the beef to get a deep flavor.
Once the meat is spiced, add a paper clip on the top with a label.
Calculate the weight of each strip of meat and mention it on the label of the paper-clipped meat.
Now hang each of the beef strips for 4 to 5 days below 20 degrees Celsius.
The beef will get dried after 4 to 5 days with a 25 to 30% moisture loss. Aim for 40 to 45% moisture loss, so hang a little more to end with perfectly dried Biltong.
Next, cut each strip of the beef into the perfect Biltong. Enjoy them in the breakfast, lunch, and dinner.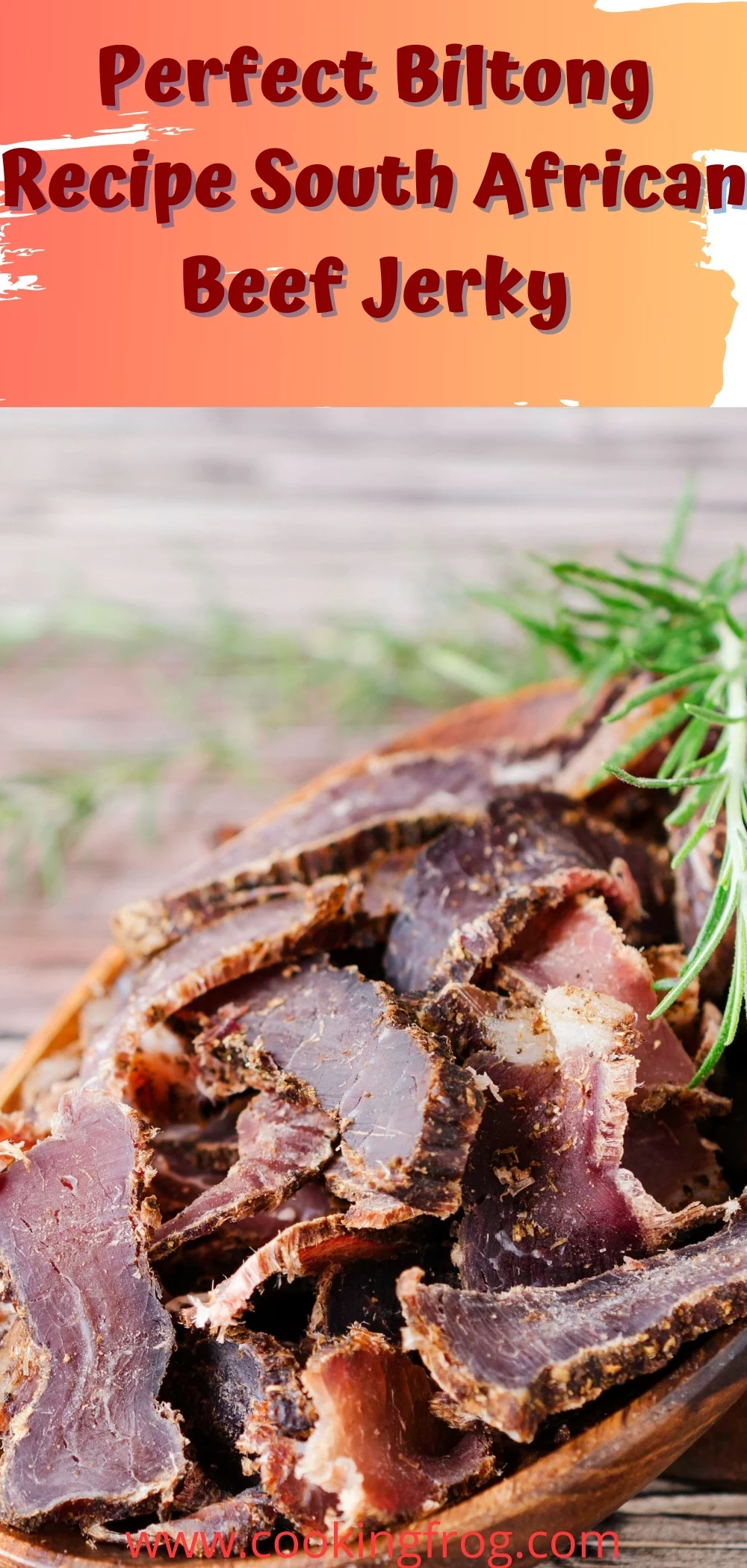 Tips & Tricks
Selection of the cut of meat is very important. My favorite cut is a top rump with a thick layer of fat. Other popular cuts include silverside and topside. If you are feeling fancy, make it with rump or striploin. Whatever you choose, pick a piece of meat with a nice fat layer to make perfect Biltong's.
Don't forget to cut the strips of meat along the grains. When you cut Biltong's, that too will be done along the grains.
Make sure not to grind the spices too fine; you should be able to identify spices even after grinding them.
Coat the meat with your spice mix, making sure it's fully covered.
Don't skip the paper clipping and weight measuring step, as it is important to track the water loss during the curing process.
A lot of the spices might fall off during the handling and curing process so place a tray below to prevent wastage of the spices.
Hang the meat in a place with good airflow. Maintaining good hanging conditions will prevent the spoilage of meat.
Cut the Biltong's as fine as you can but along the grains.
Nutrition Facts
Here is the nutrition profile of a 1 ounce of beef biltong serving.
Calories: 80
Carbohydrates: 1g
Proteins: 16g
Fats: 2g
FAQs
How to store beef jerky?
You can store beef jerky in any sealed airtight bag and enjoy it for one week without refrigerating it. If you want to keep it fresh for longer, then freezing it will keep your homemade beef jerky fresh for up to one or two months. A vacuum-sealed bag is the best option for storing jerky, but a zip lock bag also goes well.
How to check the freshness of beef jerky?
If you notice any change in the color or odor of the beef jerky, it strongly indicates that beef jerky is spoiled and, you need to throw it away.
How much time does it take to dry the beef jerky?
The drying time of beef jerky actually depends on the size of meat as well as the drying method you opted for. I suggest you focus on the moisture content of the meat. Once the meat has lost 45 to 50% moisture, you are done with the dehydrating process. Medium wet beef jerky having lots of fat is the best texture one can achieve through following a perfect biltong recipe.
How to protect the beef jerking from molds?
Beef jerky is susceptible to molds, so its protection requires taking the following precautions.
Molds can grow if the airflow is not good enough or humidity is high. Rectify these drying conditions to prevent mold from growing on the meat strips.
Properly dry the meat to enhance the storage life of the beef jerky.
Prevent the supply of oxygen by storing jerky in an airtight bag as oxygen is the biggest culprit behind the fungus growth.
Prefer freezing the Biltong over refrigeration.
Why is my jerky too hard?
The perfect texture of jerky depends on the drying time. You might have dried your jerky more than required. Moisture loss of more than 70% makes jerky hard and tough, so always prefer medium wet jerky with 45 to 50% moisture content.
Conclusion
I hope you'll find this recipe super easy to make. Although making a perfect beef jerky does require time and energy, but making a nutrient-rich snack at home is far way better than buying expensive canned beef jerky.
If you liked my recipe, give it a try, share it with friends, and do let us know about your experience.
Thanks!