This Slow Cooker Thai peanut chicken recipe is the best buttery peanut-flavored chicken that is served over thick, rich noodles I have ever made. It's easy to do; this is just a small walk-through to add all the ingredients together, leaving a slow cooker to work for you!
You will enjoy the aromas filling your house while making this meal. The ingredients you have in your kitchen are added together to make this delicious meal that will surely satisfy your taste. Everyday ingredients with simple instructions are enough for your friends and family to love it.
Slow Cooker Thai Peanut Chicken
This was so awesome! My 9-year-old said this is one of the tastiest chicken meals that I've made for him. Do you want to know what the trick is? There was a cup of zucchini and red pepper in it, and he didn't notice!
To trick the children into eating vegetables and enjoying them. The key to making your children eat healthily is to make dishes that are full of veggies for them to be able to enjoy.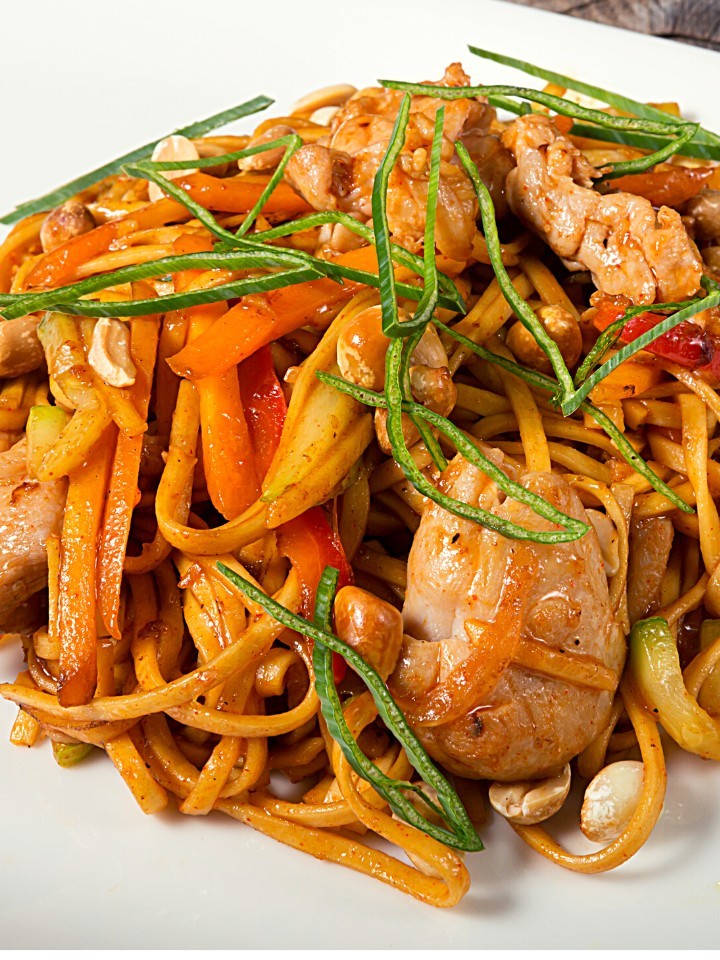 How to Make Slow Cooker Thai Peanut Chicken?
Add peanut butter, broth, garlic, zucchini, chicken, soy sauce, a little sugar, and red pepper. Mix it all together. Cook at low temperature for 4-5 hours or at high temperature for 2-3 hours.
Half an hour before serving, add half a cup of cilantro and squeeze one lime to make a juice. Place it over the noodles and decorate with the remaining peanuts and cilantro.
Can you make Thai Peanut Chicken Sauce ahead of time?
Sure you can! You can make this Thai chicken sauce seven days earlier. Just add the chicken and look at the instructions on the recipe. You can store it in hermetically sealed containers for 4 to 5 days in the refrigerator and up to 1 month in your freezer.
What noodles are best for Thai Peanut Chicken?
Regardless of type, as long as they are thicker noodles, they will soak up the delicious and creamy sauce. Fettuccine noodles are my choice. Also, I sometimes use Linguine because they are a great choice with a thinner sauce since the noodles are a bit thinner, also. Whatever you choose regarding the noodles, it will be great for Thai Peanut Chicken.
Pin the image below if you like this Thai Recipe !!!