Parmesan Baked Hash Browns are made of fresh potatoes and baked until reached beautiful gold-brown color and are the favorite breakfast to a lot of people around the world! They are rich in flavor and are the perfect meal for your perfect breakfast. If you like regular hash browns, then you will take these to the next level with baked Parmesan!

How to make the Best Baked Parmesan Hashbrowns
The first thing is first. Shred your prepared potatoes and onions. You can use the food processor, It's way easier. One of my tricks is to sink and rinse fresh potatoes in the water. This way you'll remove many starch and that way you'll make them more tasty when cooked. Also the reason for this is that moisture helps them steam nicely during the cooking process, which creates very soft, wonderful cheese potatoes.
After that it is time to add grated Parmesan, chives, fresh pepper, spicy herbs and extra virgin olive oil. Take a large bowl and mix all together so it fits well, and each piece of potato is right next to the pieces of Parmesan and is coated with extra virgin olive oil. I use extra large pan to bake these cheesy hashbrowns. This way they will stay crispy and golden and still not lose they're shape. It's ok to use a small pan and it is equally easily to receive 12 smaller portions and not 6 large ones, like i love to make them. It only takes less time to cook them, so keep that in mind.
Share the image to your Pinterest board if you like these parmesan hash browns!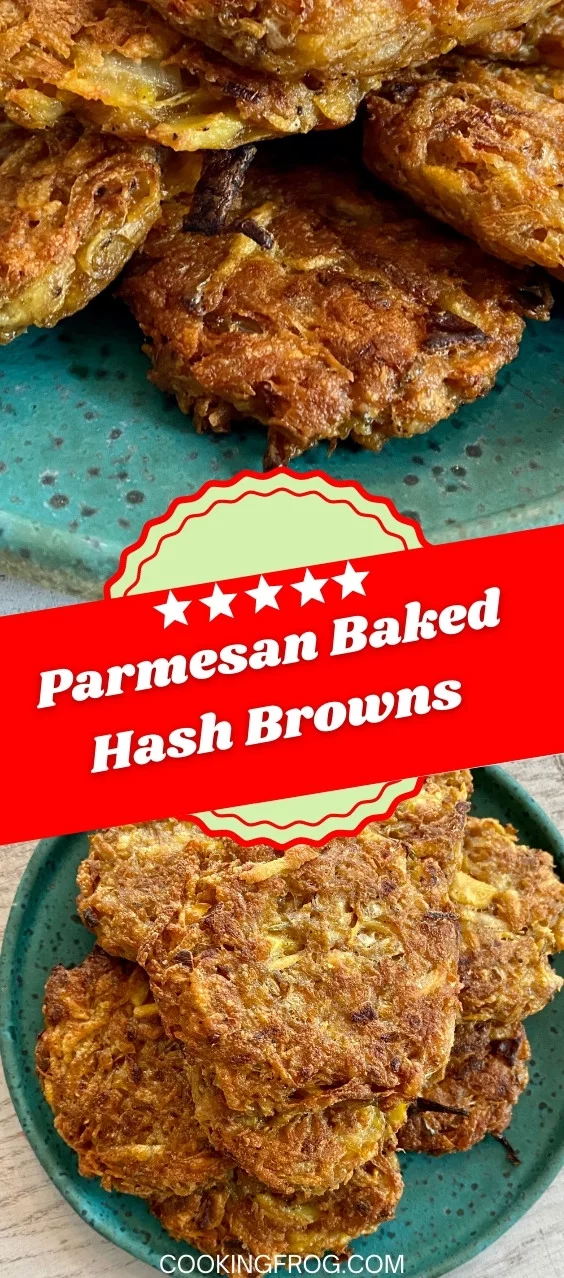 Variations of Parmesan Baked Hash Browns:
These Hash Browns are really tasty and fantastic as they are, but if you want to, you can play with recipe variations like me, here are some of these ideas. Replace Parmesan for another type of cheese. Pepper Jack, Cheddar, or gruyere cheese would work surprisingly well. Cut small slices of boiled bacon and add it to the hash browns mixture.
Do you know what can be even better than hashbrowns with Parmesan? Parmesan hashbrowns with bacon, naturally! Cracked eggs are awesome with this meal, just fill the cups with a smaller brown mixture to make the room for them. The eggs and potatoes will cook evenly and you will have a perfect mix of little egg and potato cups for breakfast.
Are you afraid that the taste of the onion is too strong? Still don't change the amount, but simmer it with a piece of butter and let it cool before you mix it with potatoes. It will neutralize the overwhelming taste of the onion, but it will leave the sweetness of the onions.
Ingredients
A cup of grated parmesan cheese
1 and a half pounds fresh potatoes
1 yellow onion
2 tablespoons of minced chives
2 tablespoons of garlic herb
1 teaspoon of ground pepper, fresh
¼ of a cup of extra virgin olive oil