Mushroom Garlic Noodles Recipe is an easy side dish that goes nicely with Asian main meals, pork chops or grilled chicken. Filled with mushrooms and golden garlic, smooth and silky egg noodles are perfect for this sauce.
For this pasta recipe the whole magic is in the garlic and you'll need a lot of it. The garlic is fried and stirred until it reaches that beautiful golden brown color. The oil is mixed with garlic juice and is full of flavor that is incomparable.
Mushroom Garlic Noodles
The key for this spaghetti garlic mushroom recipe is to cook on a high temperature and fast. Like every Asian cooking, that's the case with this one. So it's very important to have your noodles cooked and cut mushrooms, and ready for the final faze which will take only about 10 minutes. So little work to make this meal and everyone will love it.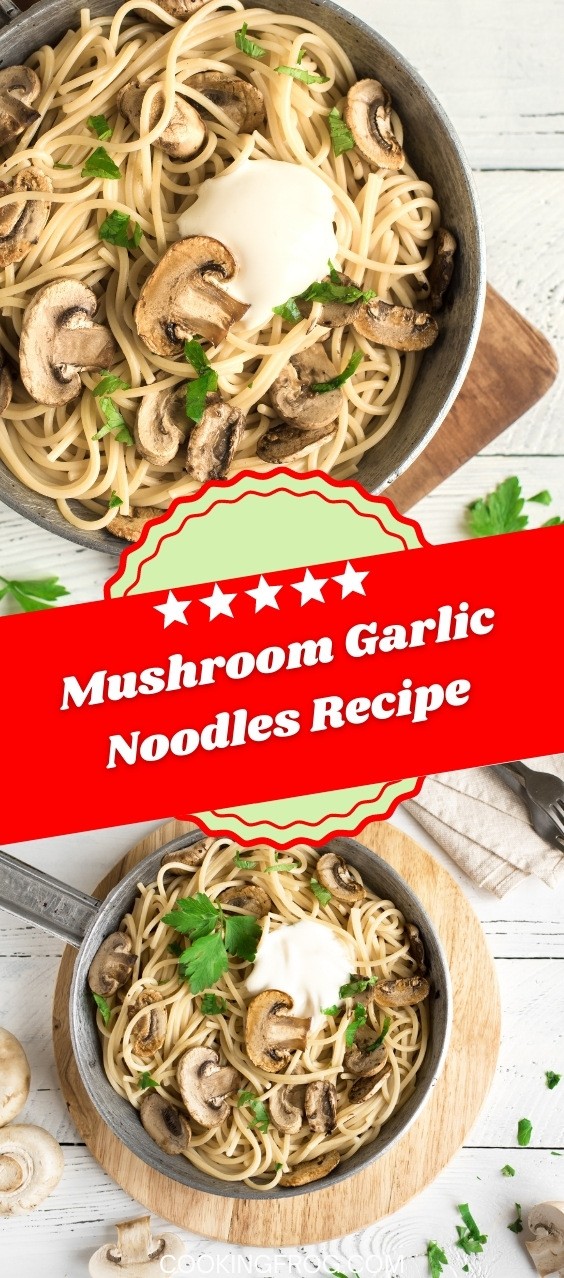 Ingredients
Half ponds of Egg noodles
2 tablespoons of olive oil
8 chopped garlic cloves
2 cups of halved button mushrooms
2 tablespoons of soy sauce
teaspoon of chilli flakes
Tablespoon of rice vinegar
2 tablespoons of chilli sauce
Tablespoon of sesame oil, toasted
Half cup of green Scallions, chopped
How to make Mushroom Garlic Noodles?
Fill the pot with water and pour teaspoon of salt. When the water is at the boiling point, place the noodles in and cook for about 10 minutes or according to package instructions.
In a medium bowl whisk together vinegar, soy sauce, chilli flakes, sesame oil and sweet chilli sauce.
Add garlic and oil in a wok. Fry and stir until the garlic gets the golden brown color, add mushrooms. Saute the garlic and mushroom on high heat for 2 minutes.
Add noodles and sauce together and cook on high heat.
Garnish with green scallions if you like and serve hot.