Today i'm going to share with you how to make Beef Bulgogi Kimbap, the Korean version of Japanese"maki," or rice rolls. This amazing taste comes from sesame oil and independently seasoned meats and veggies.
What is Bulgogi Kimbap?
Kimbap is a Korean Seaweed Rice Roll that includes seasoned rice And various vegetables and meat that's rolled in dried seaweed (kim). It's so delicious, and makes for a fantastic snack or lunch!
Though most of the flavor comes from sesame oil and individually seasoned meats and veggies. But the one particular ingredient that is the heart of Kimbap is "danmuji," or bright yellow pickled radish that you could find at the Korean grocery store in the refrigerated section.
Also, everything in the roll is mixed so well that you don't need to dip it into any type of sauce. Once you have all the ingredients prepped, the building goes by Pretty quickly, and it's worth it because it's like having a well balanced meal in every bite.
Cook's Tips for Kimbap Recipe
Feel free to add any ingredients you might deem yummy. Some recipes include fish cake, crab, or burdock root.
If you'd prefer to, you can add sesame or julienned perilla leaves, instead of spinach, which adds a burst of freshness.
Season all of the individual ingredients well, but don't go nuts.
The ingredient from which this meal adds most flavor should be the marinated beef.
The rice should be a tad dull, and everything together needs to be balanced, all in one bite. However, if you have leftovers, just dip the pieces in egg and pan fry them for a yummy twist.
What is the difference between sushi and kimbap?
They are both similar in the way they both include steamed seaweed and rice. However, sushi rice is seasoned with vinegar whereas kimbap rice is seasoned with sesame oil. cut it. Kimbap rice gets dry easily, so it's best that you eat it the day you make it.
How many calories?
This recipe has 105 calories per serving in Beef Bulgogi Kimbap.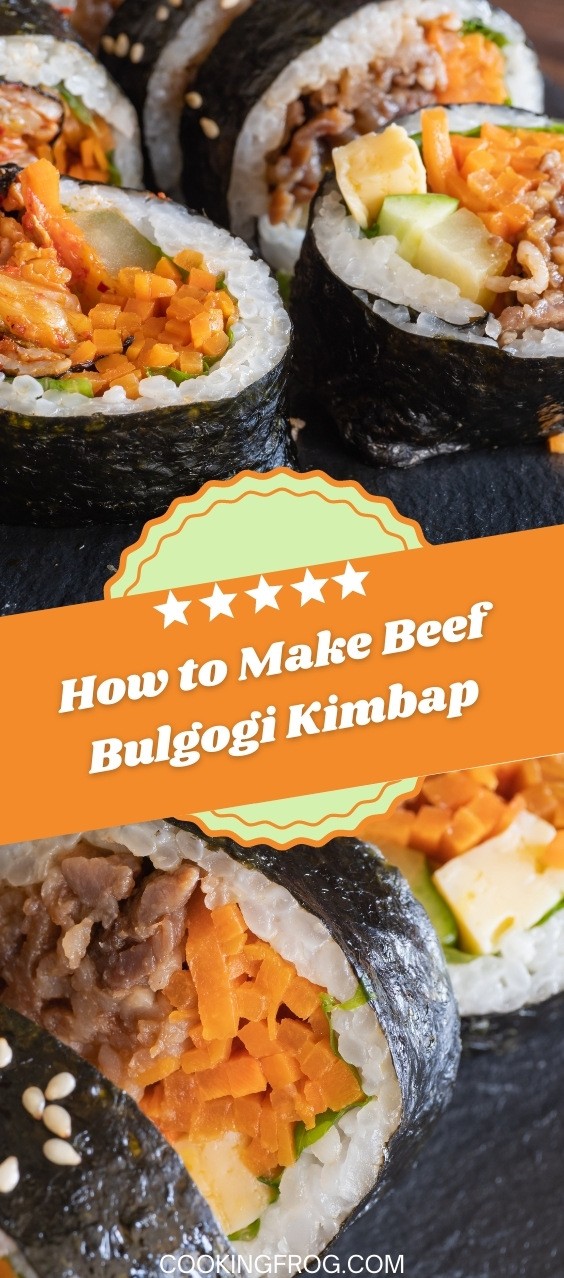 Ingredients
7 roasted Korean sheets or sushi sheets, seaweed
5 and 1/2 cups cooked short grain rice, cooled
1 Tbsp of roasted sesame seeds
14 of Korean perilla leaves, with stems removed
500g/1 pound Bulgogi, Korean beef, marinated and cooked
7 Korean yellow radish pickle strips
14 pcs seasoned burdock root strips
One English cucumber, or Lebanese (270g/10 ounces), seeds removed and julienned
1 medium carrot (220g/8 ounces), julienned (with mandoline slicer)
1 to 2 Tbsp of sesame oil
3 Tbsp of rice vinegar
2 Tbsp of white sugar
1-2 teaspoon kosher salt
How to Make Beef Bulgogi Kimbap ?
In a large bowl, combine the steamed rice with the rice seasoning and roasted sesame seeds.
Put 1 seaweed sheet on a bamboo (sushi) mat and nicely and thinly spread the rice on the seaweed sheet. (I covered about 90 percent of this sheet)
Place the prepared ingredients on top of the rice (in the lower Centre of the rice) in the sequence of perilla leaves, Bulgogi, yellow Radish pickles, seasoned burdock root, cucumber and carrots.
Once all of the components are put, lift the bottom end of the sushi Mat to cover the ingredients. When You cover them, roll up the seaweed to the top. (Paste some water or put some rice pieces at the edge of the Seaweed sheet, if it does not adhere )
Roll the sushi roll with the bamboo Mat once more to provide a firm shape. Repeat this procedure with the remaining ingredients.
As soon as you finish rolling them, paste the sesame oil on the rolls to give an extra nutty savory flavour and shiny look.