These Low-carb Chocolate Muffins With Almond Flour are great if you want to give up desserts and switch to a low-carb lifestyle. It's made with cocoa powder, almond flour and natural sweetener.
It's time to indulge your appetite with these Low-carb Chocolate Muffins; you won't feel bad once you eat them. I promise to you that these low-carb chocolate muffins with almonds are guilt-free yet really delicious.
They're nice, moist, chocolatey, delicious, and super straightforward.
Why you're going to love these Low Carb Chocolate Muffins
It's an ideal and decadent treat for a low-carb diet.
These Muffins are a chocolate treat that it's prepared in half-hour.
It's way healthier than the regular chocolate muffin cake recipes. It's created with almond flour. Therefore, it's gluten-free, dairy-free, and paleo-friendly too.
All the ingredients you most likely have already got accessible.
Additionally, it's freezer-friendly, and my children love it.
What is the best natural sweetener for these Low-carb Chocolate Muffins?
My favorite choices are:
Xylitol: It's a sugar alcohol that it's found naturally in specific plants and contains four-hundredth fewer calories than regular sugar. Also, it's a really low glycemic, which is nice for diabetes since it doesn't spike blood sugar. This was the primary natural sweetener that I've ever baked with and I love it so much; simply, it doesn't leave an awful taste.
Monk Fruit Sweetener Lakanto: this is a brand new sweetener that I'm using, and so far I've been really enjoying it. It has virtually no aftertaste and contains no calories and carbs, which is ideal for low-carb and keto diets. I used this one to create these chocolate muffins.
Swerve I really want to use this one; however, I've heard the negative aspect of this sweetener is that it has some cooling sensation after you eat a treat made with this sweetener. It's also healthy and natural, and all its ingredients come from various fruits and starchy root vegetables. Has no artificial sweeteners.
Share the image below to your Pinterest board if you like these Low-Carb Chocolate Muffins!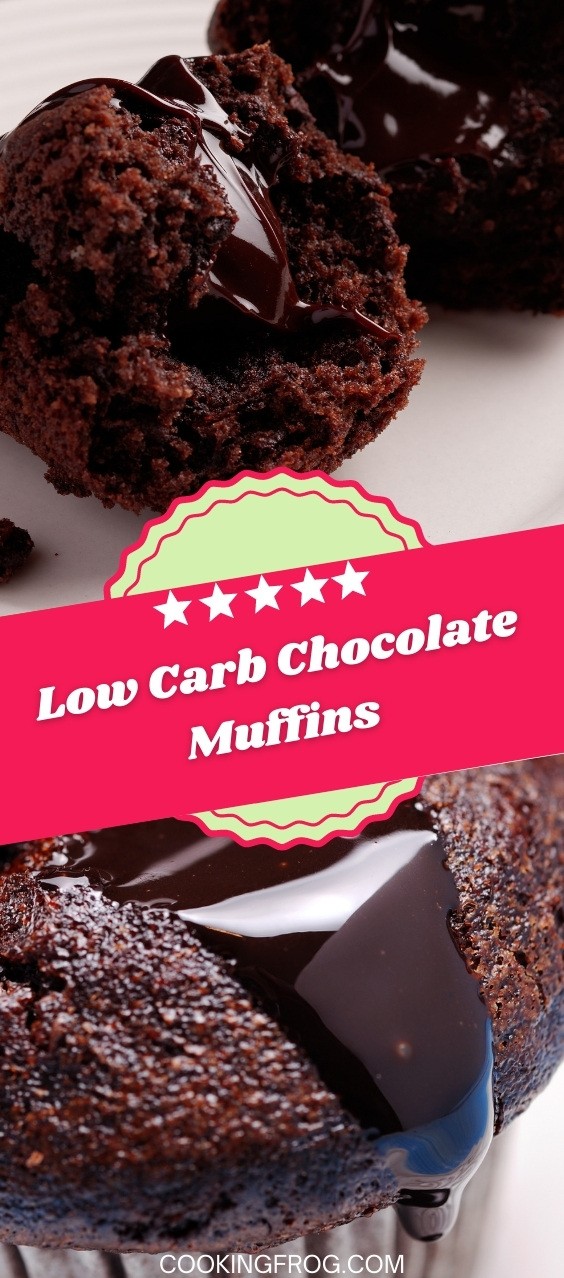 2¼ cups of almond flour, i use blanched almond flour
1 tablespoon of cocoa powder
½ teaspoon of baking soda
¼ teaspoon of salt
3 large pasture-raised eggs if available
½ cups of liquid monkfruit syrup
¼ cup coconut oil, melted
2/3 cup of Lily's Dark Chocolate Chips
How to make Low Carb Chocolate Muffins With Almond Flour?
First, heat up the oven to 350˚F. Line a muffin tin with paper liners and set it aside for later.
Take a medium-sized bowl, add the dry ingredients ( baking soda, almond flour, cacao powder and salt), and blend well to mix.
Use another bowl to add eggs, monkfruit sweetener (honey or maple syrup) and melted butter, and whisk to mix.
Pour the eggs mixture into the almond-flour mixture, then really carefully stir well to blend it nicely.
Mix in chocolate chips and divide the batter among the prepared muffin cups.
This is terribly important: fill in every muffin cup three-quarters of the way. It's around 2 and a 0.5 tablespoon per muffin cup. The dough will be a bit thick, however it'll work absolutely perfect. Sprinkle with extra sugar-free chocolate to your liking.
Bake the muffins for 25-30 minutes, till the tops of the muffins are set and a toothpick inserted within the center comes out clean.
Place the pan on a wire rack and let the muffins cool within the pan for five minutes. Gently pop the muffins out let cool for 10 minutes more on the rack. Enjoy!!!
Nutrition Information
Amount per serving (1/12) , Calories: 200, Fat: 17,5g, Saturated Fat: 5g, Cholesterol: 55mg ,Monounsaturated Fat: 1g, Sodium: 170mg, Potassium: 19mg, Carbohydrates: 6g, Fiber: 4g, Sugar: 2g, Protein: 7g