Though you may have tried many recipes belonging to different cuisine styles, some stay very close to your heart. It brings memories of your childhood and your grandmother's traditional style of cooking.
The dried beef cheese ball recipe is one of them. It is a super-simple but delicious recipe that can be made within minutes. You can eat these balls as the main food or as an appetizer, as you please. The best part of this dish is that you can add or reduce ingredients, as per your creativity, to suit your taste buds.
The combination of green onions, cream cheese and dried beef make this dish taste heavenly. Are you planning for a party at your home this evening? Make sure you include these dried beef cheese balls as part of the starter menu, and watch your guests drooling over them.
Some points to remember before you know how to make these cheese balls
Sometimes, if you cannot find your favorite brand's dried beef in the supermarkets, you can also buy chipped beef. The taste of the cheese balls will remain as authentic as you wanted.
Many people may find chipped beef to be too salty. So, we recommend you clean the meat thoroughly before using it to roll the balls to reduce the salt content in the dish.
If you are health-conscious and don't want to buy dried beef from the market, you can make it home. Yes, it is a lengthy process, but the time you spend on this is worth every second, considering how tasty your cheese balls are going to turn out to be!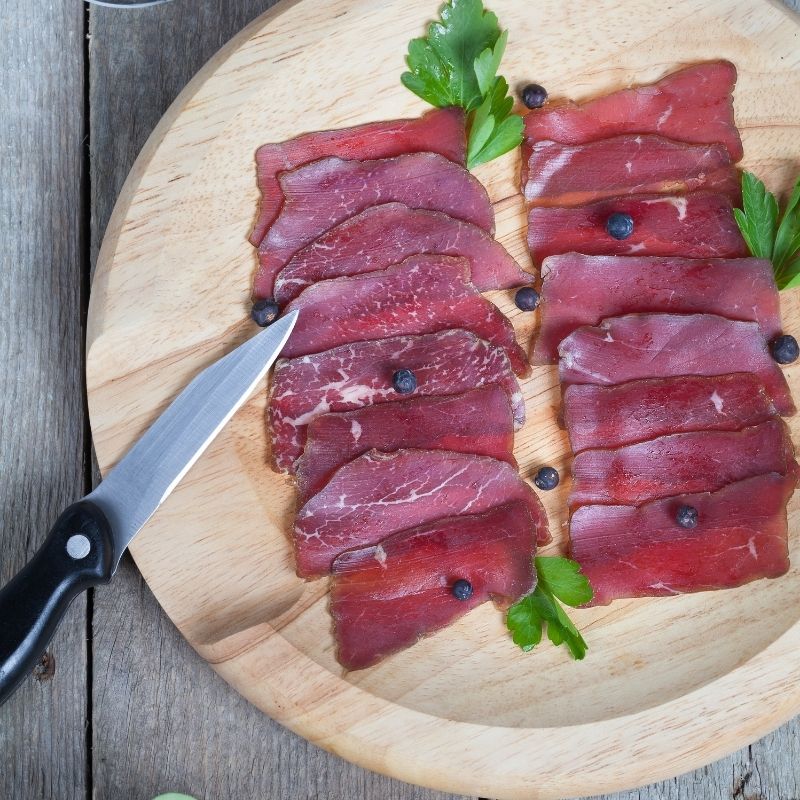 How to make Dried Beef Cheese Ball Recipe
Choose the part of the beef that has the lowest fat content, if you decide to make dried beef at home. Air-drying is the most common method used by many.
Cut the meat into strips using a sharp knife – the kind that butchers use.
Mix all the flavorful ingredients that you intend to use (like vinegar, marjoram, thyme, pepper and salt) in bowl. Mix the contents very well to ensure that they give out the maximum flavors.
Add the freshly-cut beef strips into this spice mixture. Ensure that the strips are immersed well in the mixture. Cover the bowl with a tape or cover of your choice.
Place the covered bowl in the refrigerator and allow it to remain there for about 12 to 14 hours.
For the air-drying process, you have to use a special storage box that has aluminum foils, proper lighting (a 75W incandescent bulb) and aluminum bars (for hanging the beef strips). A 12-volt fan is an additional bonus in the storage box. This will keep the strips away from fungus, if any.
If you don't have a specific storage box like this, you can use your refrigerator's sandwich box for this purpose. You can make modifications to this box by adding the fans, bars, light and fan.
Use some paper clips to hang the beef strips on the bars securely. After you set up the box, you can switch on the box's power by plugging it into the nearest outlet.
Allow the meat to dry on the bars for 12 hours. Check the box after 12 hours. If the strips still have some juices on them, let them dry for some more time. If they are completely dry, you can take them out.
Allow the dried beef to cool down, before you use them for rolling the cheese balls.
Your homemade, healthy dried beef is now ready to be used for your favorite recipes.
Pin the image below if you like this recipe!
Dried Beef Cheese Ball Recipe
Ingredients
Cream Cheese – 8 ounces,
Dried Beef – 3 ounces,
Green Onions – 2 (finely chopped),
Onion Salt – ¼ teaspoon,
Monosodium Glutamate (MSG) – 1 ¼ teaspoons,
Worcestershire Sauce – 1 tablespoon,
Nuts for decoration – optional
Instructions
Once you gather all the ingredients and keep them ready, preparing the cheese balls within ten minutes. Here is how you can do it:
Take a big bowl and mix cream cheese, dried beef and the chopped green onions.
Mix the contents well before you add the other ingredients of salt, MSG and Worcestershire sauce.
Now, roll the ingredients into a ball, and refrigerate the balls for about 30 minutes. Wrap the ball properly with plastic wrap. Use the plastic wrap in the shape of a cross-shape, for the ball to get a perfectly round shape. This way, it will settle well, once it is placed in the refrigerator.
After 30 minutes, please take out the cheese ball from the refrigerator unwrap it. Cut a small portion and serve them with unsalted crackers, butter crackers, or celery sticks.
Tangy and tasty cheese balls made from dried beef are now ready.
Make them in batches and store them in the refrigerator. They stay good for about 2 to 3 days.
Some changes you can try to this recipe
You can also add a teaspoon of freshly ground pepper for additional flavors and taste, along with salt and Worcestershire sauce.
After shaping the balls, you can coat them with dried bits of beef pieces, groundnut powder, almond nuts, or small bacon pieces before refrigerating them.
If you like the dried beef to be spicy and flavorful, you can also add a small amount of vinegar, marjoram, thyme and hot pepper to the dried beef when you are rolling the mixture into small balls.
You can also mix about 4 ounces of buttermilk ranch seasoning into the mixture to get unique flavors from your cheese balls.
You can use any brand of dried beef or chipped beef. However, you can also make your own dried beef following the below-mentioned methods.
You can omit MSG completely, if you wish, for a healthier version of dried beef cheese balls.
You can roll the cheese balls in a mixture of dried beef pieces and green onions to make the dish look colorful and yummy.