Homemade Hostess Cupcake Recipe is creamy in the middle, extra moist cake with a nice fudge ganache and the classic crisp vanilla swirl on the top. This isn't one among my easiest recipes, considering there are many delicious components that make this delicious masterpiece. However with a couple of shortcuts, this cake is easy to create.
Prepare Ahead Options For Hostess Cupcake Recipe:
Create the swirl icing and cream filling and store them in an airtight container for up to five days ahead of time.
Store the chopped chocolate in a sealed ziplock bag.
Mix all dry ingredients (not the espresso) for the cake and store in an airtight container also.
If you haven't stuffed a cupcake before, it's really easy, no worries. There are a couple of ways you can do it. You can stick the piping bag ( with a metal tip) directly into the whole cake. Or, you could take away the tops of cupcakes by creating a cone shape, and add the filling, then replace the tops with some of the cake removed from the top.
Pin the image below if you like these Homemade Hostess Cupcakes!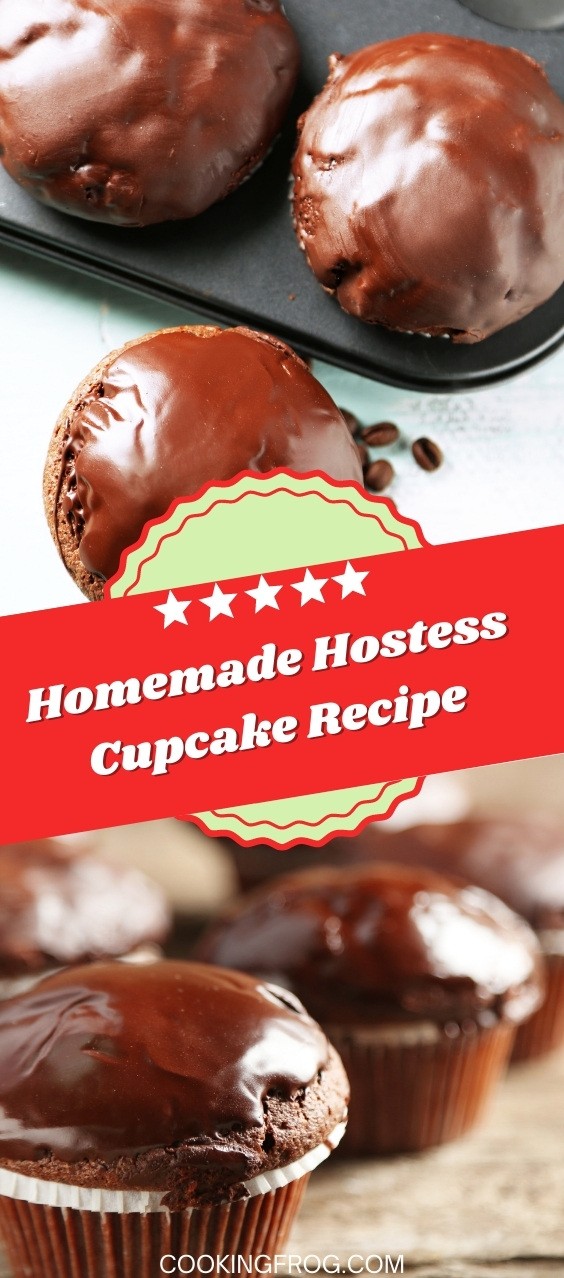 Ingredients
For the Chocolate Cake
2 cups of flour, all-purpose
2 cups of sugar, granulated
1 cup of cocoa powder
2 tsp of baking powder
1 tsp of baking soda
1 tsp of salt
2 heaped tsp of espresso powder
1 cup of milk
1/2 cup of vegetable oil
2 whole eggs
2 tsp of vanilla
1 cup boiling water, filtered
For the Cream Filling
2 cup of marshmallow creme
1/2 cup of stick butter
1 cup of sugar, powdered
splash heavy cream
For the Chocolate Glaze
5 ounces of chopped Bittersweet chocolate
1/2 cups of heavy cream
For the Swirl Icing
1/4 cup of room temperature butter
1 cup of sugar, powdered
1 Tbsp of heavy cream
1/2 tsp of vanilla extract
How to make Homemade Hostess Cupcake Recipe
For Chocolate Cake
Heat up the oven to 325º F. and put the cake liners in muffin tin.
Take a large bowl of a stand mixer and add in flour, cocoa, sugar, baking powder, baking soda, and salt . Stir through flour mixture till combined well using paddle attachment.
Add in milk, egg, vegetable oil, and vanilla to flour mixture and blend together on medium speed till well combined.
Heat water till boiled in a microwave safe glass. Take away from the microwave and add espresso powder and mix well.
Slowly add boiling water to the cake batter with your mixer on low speed.
Speed up the mixer for about one minute to add air to the batter.
Equally distribute cake batter, every cupcake liner should be around 3/4 full.
Bake in the oven for about 12-15 minutes, or till a pick inserted in the center comes out clean.
Take away from the oven and let the cupcakes to cool down fully.
For the Creme Filling
Add butter and marshmallow creme in a mixing bow and beat with mixer on medium speed till really soft and airy.
Cut back the speed to low and slowly add the powdered sugar.
After it's all been combined, increase the speed to medium-high and beat for one to two minutes more, or till very light and airy.
Move the filling to a piping bag fitted with a large, round tip and place in the fridge till ready to use.
For the Chocolate Glaze
Take a round bowl and add in the copped chocolate.
Place the heavy cream into the microwave until it comes to a simmer.
Take away the heavy ream and pour over the chopped chocolate.
Let stand for a moment, then carefully whisk along till a smooth ganache forms, and leave it for about 5 minutes until it thickens.
For the Swirl Icing
Beat along all icing ingredients on medium speed till fully mixed and the texture is creamy and smooth.
Move the icing to a piping bag with a small writing tip and leave aside.
How to Assemble the cupcake
After the cupcakes have cooled nicely, cut a circle into the cupcake to create a cone.
With the previously prepared piping bag, pipe filling into the holes of every cupcake.
Place the cake top back into the creme stuffed center and using a gloved hand (or spatula), press to seal the cake nicely.
You'll need to really pack down the cone to make certain it's sealed back into the cake.
After all of the cupcakes are stuffed nicely, stir your ganache to be sure it's perfectly smooth as it should be. Heat for about 5 or more seconds if required.
Take cupcakes one at a time and dip them, tops first into the ganache.
Tap to permit access to drip off, then place back on the cooling rack.
After all of the cupcakes are topped with ganache nicely, move the cooling rack to the fridge for 15-16 minutes to let the ganache to firm up and set.
Once ganache has firmed, take the swirl icing and pipe the signature swirls across every cupcake.