Frozen Blueberry Pie is a delicious dessert that is perfect for summertime. It takes about 25 minutes to prepare this beautiful recipe, and it's a must because it is unbelievably tasty.
Frozen pie, sweet and fresh blueberries, and no baking, you must agree that summer dessert doesn't get much better than this one. The only issue I have here is not to eat the filling while preparing this pie. The next hard thing is to wait for this heavenly blueberry pie to freeze.
Pin the image below if you like this no-bake blueberry pie recipe!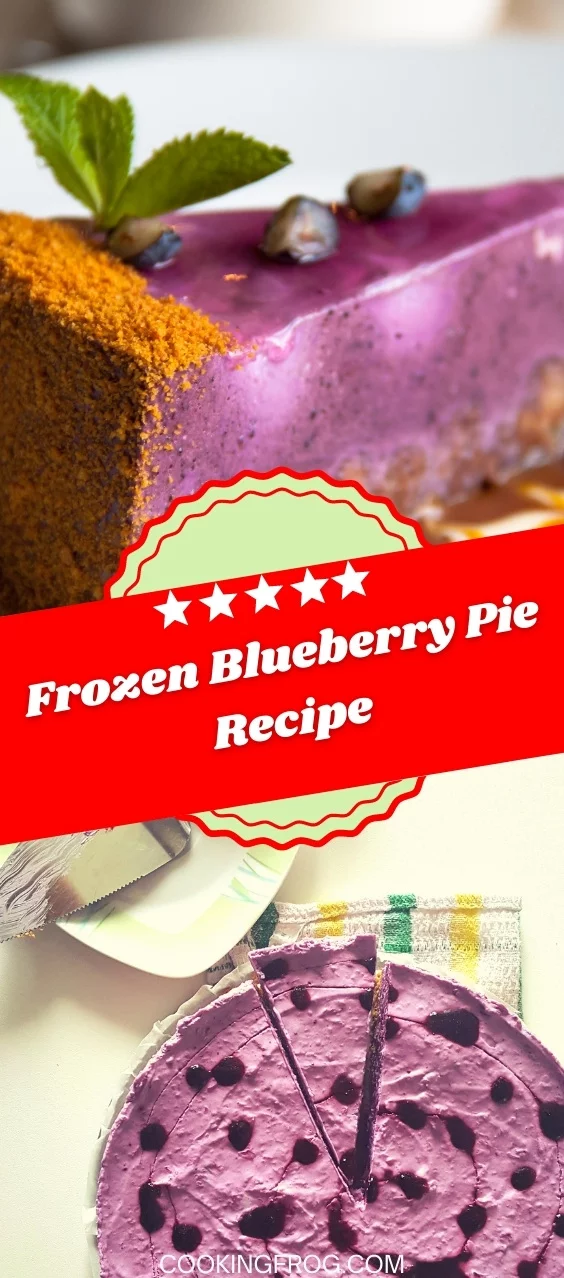 Ingredients
For the crust
1 1/2 cups of graham cracker crumbs
1/4 cup of sugar
1/4 cup of melted butter
For the filling
3 cups of blueberries, fresh.
2/3 cup of sugar, granulated
8 ounces of cream cheese
1 1/2 cups of non-fat yogurt
1/2 cup of sugar, powdered.
1 teaspoon of vanilla extract
1/2 cup of heavy cream
Frozen Blueberry Pie Recipe
First, we make the graham crust by crushing the graham crackers using the food processor, then add the butter and sugar and mix to combine nicely.
Grease the 9-inch springform pan and dump the crust in. Press it evenly on the bottom and spread and push it up the sides of the pan. You can use the glass to press the sides and the bottom against the pan. Place the crust in the refrigerator to cool while you're making the filling.
Add sugar, half cup of yogurt, and blueberries in a food processor and mix until it's smooth.
Take a large bowl and add in cream cheese, powdered sugar, vanilla, and remaining yogurt. Mix with an electric mixer by starting slow (so your powdered sugar don't go out), until smooth.
Combine the blueberry mixture with the cream cheese and mix to combine nicely.
Add the heavy cream in a separate bowl and mix until it turns into whipped cream.
Pour the whipped cream into a blueberry mixture and mix carefully.
Pour the blueberry pie mixture into the refrigerated graham cracker crust.
Freeze the pie for about 3-4 hours or until solid.

Nutrition Facts
Calories 350 kcal
Calories from fat 171
Total Fat 18g
Saturated Fat 10g