This Chocolate Chip Pumpkin Bread Vegan Recipe is made with pumpkin puree and warm autumn spices, sprinkled with chocolate chips. Ideal for an healthy afternoon snack with coffee!
I must confess. I am a late bloomer when it comes to my passion.
My mother does not really like pumpkin, so the only experiences that I had with it before maturity was in the form of store-bought pumpkin pies in those crinkly aluminum tins topped with a dollop of partly frozen cool whip. Maybe not precisely the tastiest introduction!
Maybe it was destiny, but I discovered my love of baking round the same Time a particular coffee chain debuted pumpkin spice into the masses. The two things inevitably collided and a late love of pumpkin-baked goods was born!
Nowadays I often prefer sausage cakes, biscuits, and bread over Custardy pumpkin treats (a lot of poor childhood memories!) . This vegan chocolate chip pumpkin bread is a favorite.
Chocolate Chip Pumpkin Bread
This is a super moist loaf with a glowing orange, not-too-dense crumb. A sprinkle of mini chocolate chips in the batter contrasts the sweet, tender crumb of the bread and nearly bitter chocolate.
The barest hint of spice in the batter is amplified from the liberal This does double duty: it adds taste and it turns into a crackly crust as the bread bakes.
This bread keeps like a fantasy for at least a few days, wrapped well, on the countertop.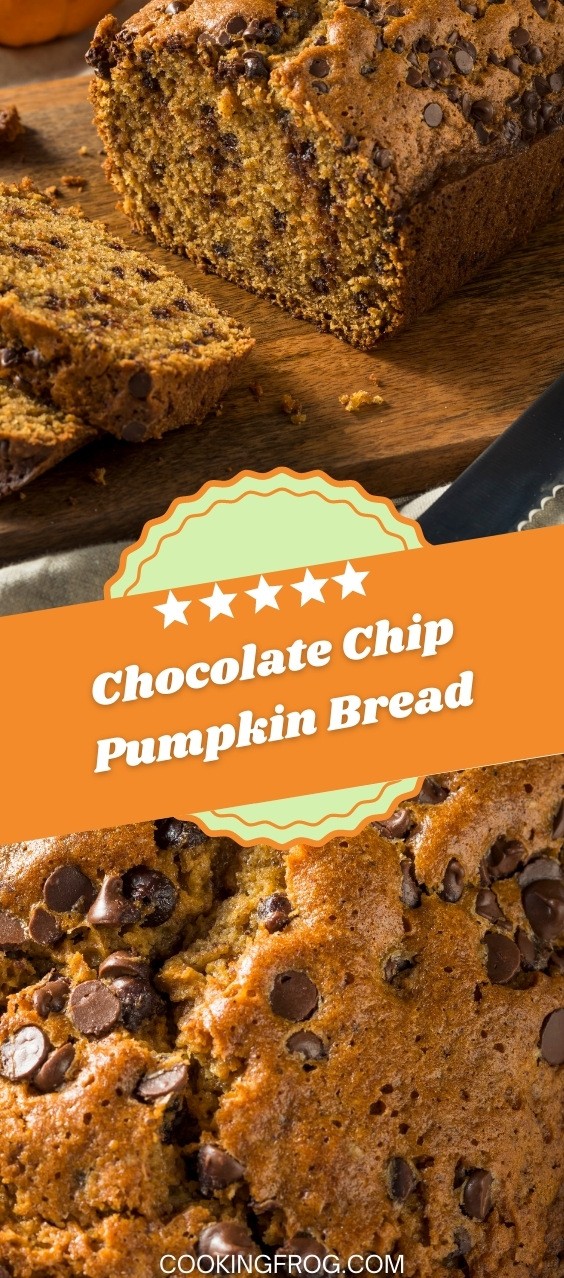 For the topping:
3 tbsp sugar
1/2 teaspoon ground cinnamon
For the bread:
2 cups (280 g) all-purpose flour
2 1/4 tsp baking powder
3/4 tsp kosher salt
1/2 teaspoon ground cinnamon
1 cup (244 g) pumpkin purée
1 1/4 cups (250 g ) granulated sugar
2 big eggs or (2 tablespoon of chia seeds mixed with 6 tablespoons of water for vegan version)
1/2 cup (125 ml) whole milk (2 percent is also fine)
1/2 cup (113 g) unsalted butter, melted
2 teaspoons vanilla extract
1/2 cup miniature chocolate chips, plus additional for topping
How to Make Chocolate Chip Pumpkin Bread Vegan Recipe
Preheat the oven to 350°F. Butter or spray a 9-x-5-inch loaf pan.
Mix the topping: Whisk 3 tbsp of sugar and 1/2 teaspoon cinnamon together in a small bowl. Set aside
After that mix the dry ingredients: Combine the flour, baking powder, kosher salt, and cinnamon in a large mixing bowl.
Create the batter: At a separate medium-sized mixing bowl, whisk together the pumpkin, sugar, banana, almond milk, melted butter and vanilla extract until well blended. Pour the pumpkin mixture into the flour mixture and fold to mix. Fold in the mini chocolate chips.
Tap the pan a couple of times on the counter to remove air bubbles, then smooth the top with a spatula. Sprinkle with cinnamon sugar and much more miniature chocolate chips.
Bake the bread: Bake for 50 to 60 minutes, or until a Toothpick inserted in the middle of the bread comes out clean. Remove from the oven and cool in the pan on a cooling rack for 20 minutes before removing and cooling completely.
Wrap up any leftovers with plastic or foil wrap and store on the countertops. The bread will keep for many days.